Tugdock's patented technology offers the most cost-effective way of delivering Floating Offshore Wind at scale. It comprises:
Tugdock Buoyancy Unit (TBU)
A cylindrical buoyancy unit with a lift capacity of 100 tonnes – this is twenty times greater capacity than standard products.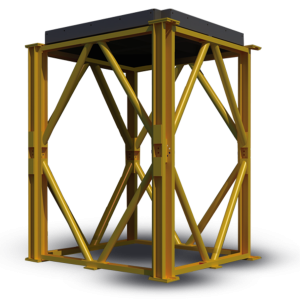 Tugdock Submersible Platform (TSP)
A method of installing the TBUs into a road transportable modular frame – thus creating the Tugdock Submersible Platform (TSP). This is a modular design that provides flexible and bespoke solutions for the assembly and launch of FLOW structures
The Benefits of Tugdock technology
EASILY TRANSPORTABLE: Transportable by road or sea for global delivery.
QUICK ASSEMBLY: Modular design, quickly and easily assembled and disassembled.
SIMPLE TO OPERATE: To submerse, air is released from the Tugdock Buoyancy Units. To surface, they are re-inflated.
COST EFFECTIVE: The lightest and most cost-effective alternative to a steel hulled barge or floating dock.
UNLOCKS LOCAL CAPACITY: Can effectively supplement existing port facilities as well as unlock the potential of smaller sites, thus enabling ports to expand operations quickly.
STABLE: Stability during the lift and launch is provided with pontoons. The pontoons can provide a working area for the control system.
EASY SERVICE: Tugdock Buoyancy Units are accessible from the main deck for easy service and maintenance.
MODULAR: Frames are connected together to provide a variety of deck sizes up to 100 metres x 100 metres.
REUSABLE: The system can be re-used making it especially cost-effective for developers working on multiple projects.
COMPLIANT: Designed to DNV/GL Rules for floating drydocks classification, compliant with stability codes for drydocks and structures: • DNV-OS-H101 • DNVGL-RU-FD.
Can be used for loadout and launching
Tugdock Submersible Platforms enable loadout and launching of floating substructures. The submersible platforms are used in combination for the loadout by positioning the platforms adjacent to the quayside to take the load of the floating substructures and then submerging the platform's deck below the surface of the water to enable float off. Our technology enables the assembly, launch and recovery of floating substructures in ports with insufficient water depth, tidal variations, or space restrictions. The floating platform is then towed to deeper water for launching of the turbines.
Additional buoyancy, as required
Tugdock Buoyancy Units provide additional buoyancy for draft reduction and to provide stability for Wind Turbine Generator integration. The buoyancy units can be considered as temporary works equipment that is fixed to the floaters in modules and used during berthing, integration, marshalling, and removed prior to tow-out. The product can be re-installed for wet storage or for in-port operations and maintenance activities.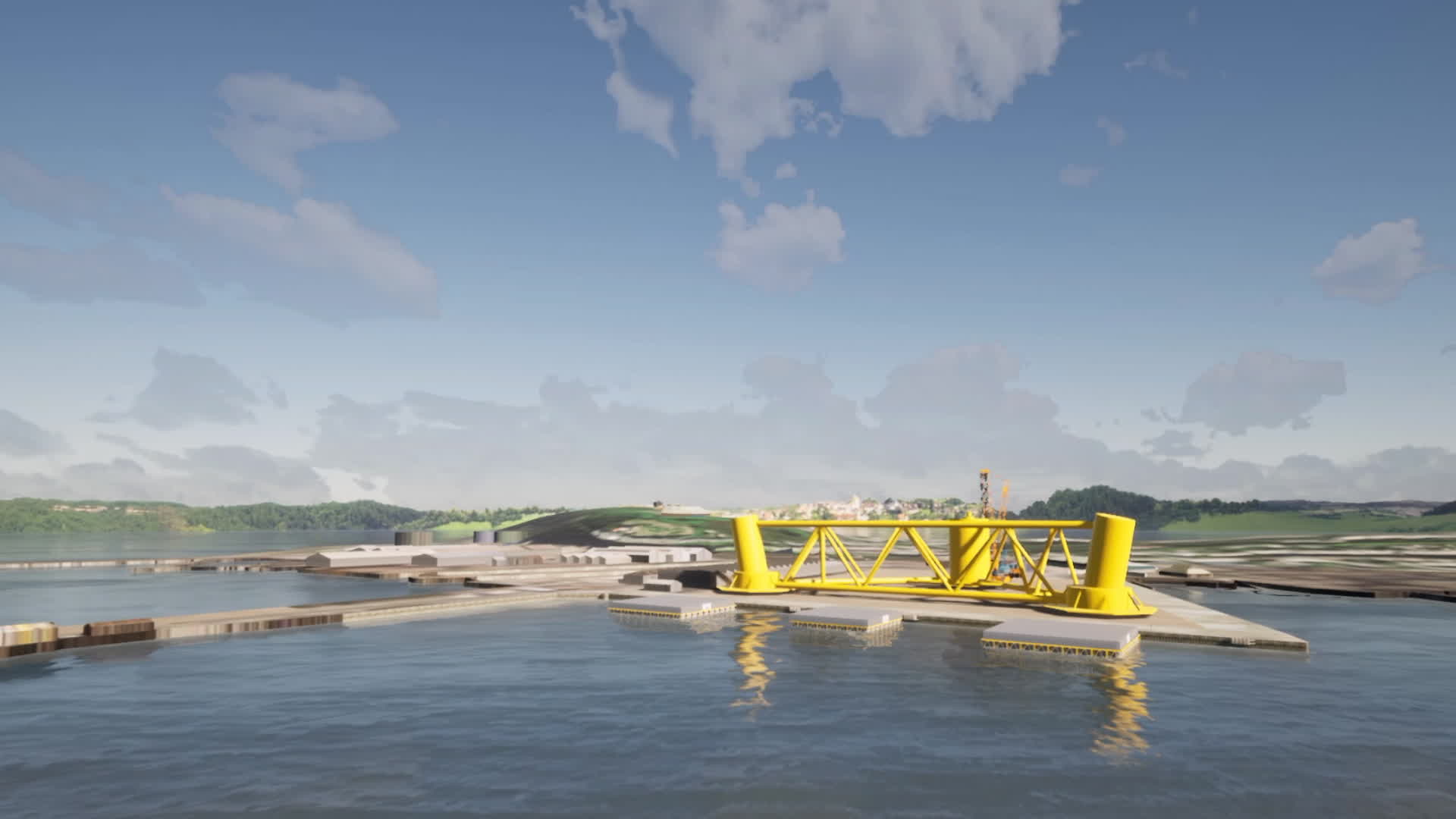 Can be used for rapid pre-assembly
A single large submersible platform can provide a rapid, unrestricted pre-assembly area at or away from the quayside. This could be anything up to a 100m x 100m build platform. This could be located close to the wind farm site locations anywhere with 5 metres of water.
Not limited to periods of high tide
At many ports the large tidal range makes it difficult to loadout the large turbine floaters from the quayside into the water. However the Tugdock system only needs 5 metres of water depth and the speed of 'air ballasting' of the Tugdock system allows the floaters to be quickly and efficiently launched in ports with high tidal range. This saves time and costs.
'Just in time' serial marshalling
Parts can be built anywhere, then shipped in. For example, 1,000 tonne pieces to 'port near final location' for rapid assembly on a Tugdock platform (with a crane). The ships could even moor alongside the platform and discharge directly onto the Tugdock platform deck. The Tugdock platform could be miles away from any port, as an independent temporary floating port that is used to overcome the constraints of existing ports.